INTI.Q TRAINING COURSES BY INDUSTRY SECTOR
INTI.Q provides the most up-to-date trainings that are needed to succeed and assure confidence in your professional life. 
INFORMATION SECURITY MANAGEMENT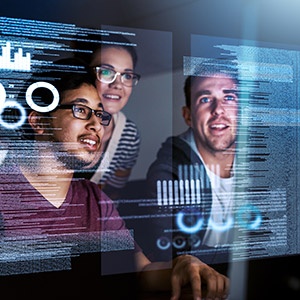 Requirements for establishing, implementing, maintaining and continually improving an information security management system within the context of the organization. It also includes requirements for the assessment and treatment of information security risks tailored to the needs of the organization. 
Provides guidelines for organizational information security standards and information security management practices including the selection, implementation and management of controls taking into consideration the organization's information security risk environment(s).
Provides guidelines for the establishment of a systematic approach to Information Security risk management which is necessary to identify organizational needs regarding information security requirements and to create an effective information security management syste
Refers to 'Cybersecurity' or 'Cyberspace security,' which is defined as the protection of privacy, integrity, and accessibility of data information in the Cyberspace. Therefore, Cyberspace is acknowledged as an interaction of persons, software and worldwide technological services.
It presents basic concepts and phases of information security incident management and combines these concepts with principles in a structured approach to detecting, reporting, assessing, and responding to incidents, and applying lessons learn.
This document specifies requirements and provides guidance for establishing, implementing, maintaining and continually improving a Privacy Information Management System (PIMS) in the form of an extension to ISO/IEC 27001 and ISO/IEC 27002 for privacy management within the context of the organization. This document specifies PIMS-related requirements
Provides implementation guidance for the controls described in ISO/IEC 27002 and supplements them where necessary, so that they can be effectively used for managing health information security. By implementing ISO 27799:2016, healthcare organizations and other custodians of health information will be able to ensure a minimum requisite level of security 
CONTINUITY, RESILIENCE AND RECOVERY
Requirements to implement, maintain and improve a management system to protect against, reduce the likelihood of the occurrence of, prepare for, respond to and recover from disruptions when they arise. This standard is generic and intended to be applicable to all organizations, or parts thereof, regardless of type, size and nature of the organization.
Specifies the requirements for a security management system, including those aspects critical to security assurance of the supply chain. Security management is linked to many other aspects of business management. ISO 28000 specifies the aspects to help the organization to assess security threats and to manage them as they arise in their supply chain
Provides guidance to enhance organizational resilience for any size or type of organization. It is not specific to any industry or sector. ISO 22316:2017 can be applied throughout the life of an organization. This standard does not promote uniformity in approach across all organizations, as specific objectives and initiatives are tailored to suit an individual organization's needs.
Provides guidance for an organization to establish, implement, and maintain a formal and documented business impact analysis (BIA) process. This Technical Specification does not prescribe a uniform process for performing a BIA, but will assist an organization to design a BIA process that is appropriate to its needs. This standard is applicable to all organizations
GOVERNANCE, RISK MANAGEMENT AND COMPLIANCE
The General Data Protection Regulation (GDPR) is a regulation that will enforce a stronger data protection regime for organizations that operate in the European Union (EU) and handle EU citizens' data. GDPR constitutes the protection of personal data of employees, customers and others. In case organizations fail to comply with this regulation,
Provides guidelines for establishing, developing, implementing, managing and improving a compliance management system within an organization. This standard is applicable to all sizes, nature and complexity of company's business activities. This will allow organizations to encounter all their regulatory requirements 
Provides a high-level framework for protecting the Personally Identifiable Information (PII) that is within Information and Communication Technology systems (ICT). This privacy framework provided by ISO/IEC 29100 applies not only to organizations but also for persons using the ICT, which do require privacy controls in order to process the PII.

Provides a set of principles, a Risk Management framework and process, which help organizations take a proactive approach to risks that they face. ISO 31000 helps organizations to develop, implement and continuously improve a framework  that aims to integrate Risk Management strategies into the overall organizational processes including decision-making.
Prevent, detect and address bribery by adopting an anti-bribery policy, this standard provides requirements for establishing, implementing, maintaining, reviewing and improving an anti-bribery management system. This standard is designed for all types of organizations from any sector and for any type of bribery they may face.
QUALITY MANAGEMENT SYSTEM

Specifies requirements for a quality management system when an organization: a) needs to demonstrate its ability to consistently provide products and services that meet customer and applicable statutory and regulatory requirements, and b) aims to enhance customer satisfaction through the effective application of the system
Describes a methodology for the business improvement methodology known as Six Sigma. The methodology typically comprises five phases: define, measure, analyse, improve and control (DMAIC).
Many companies have process variations which often result in defects and errors such as waste abundance.
Guidelines for Management Consultancy Services, aims to help management consultancy service providers (MCSPs) and their clients improve transparency and understanding of their consultancy assignments, in order to achieve better results. The appropriate application of this International Standard enables the service providers to reduce risk in management consultancy assignments
Is an international standard developed by the International Organization for Standardization which provides management tools for organizations that offer educational products and services. It intends to help educational providers meet students requirements and needs. ISO 21001 is based on ISO 9001, but it provides a specific framework for educational organizations
Provides guidance for project management and can be used by any type of organization, including public, private or community organizations, and for any type of project, irrespective of complexity, size or duration. This guide comprehends a straightforward introduction and also explains the practical application on how to deliver projects successfully and ensure a sustainable future.
This document specifies requirements to be met by a management system for records (MSR) in order to support an organization in the achievement of its mandate, mission, strategy and goals. It addresses the development and implementation of a records policy and objectives and gives information on measuring and monitoring performance.
IT GOVERNANCE & SERVICE MANAGEMENT
This document specifies requirements for an organization to establish, implement, maintain and continually improve a service management system (SMS). The requirements specified in this document include the planning, design, transition, delivery and improvement of services to meet the service requirements and deliver value.
Provides principles, definitions and a model to help the governing bodies understand the importance of IT. This standard is intended to help all types of organizations in evaluating, directing and monitoring the use of IT, regardless of the degree of IT usage. It consists of management practices and decisions associated with the current and future use of IT.
Specifies requirements for establishing, implementing, maintaining and improving an asset management system that manages the lifecycle of assets in the organization, no matter the type of the asset held. It is intended to be used by those involved in the establishment, implementation, maintenance and improvement of an Asset Management System
HEALTH, SAFETY AND ENVIRONMENT
Specifies the requirements for organizations that want to enhance their environmental performance and increase their operational efficiency. Help organizations manage their short-term and long-term processes through the use of efficient resources Learn how to increase resource efficiency, reduce waste, and drive down costs. 
specifies the practices that organizations in the events industry need to have in place in order to improve the sustainability of their services, products and/or general activities. The standard guides organizations of all sizes in the management of social, economic and environmental impacts
Food Safety Management provides a preventive approach on how to identify and control food safety hazards and ensure the safety of global food. applicable to all organizations involved in the food chain, whose main objective is to ensure food safety. The standard outlines a framework which harmonizes all parts of the food supply chain, 

Provide guidance on how to behave in a socially responsible way. This standard is applicable to all organizations, whose aim is to contribute to the health and wellbeing of society, regardless of their size or industry. Create a positive impact in society by being committed to ethical behavior is every persons 'and business' is a guidance standard that helps organizations to enhance their operational processes 
Learn how to reduce workplace hazards, protect the safety, health and welfare of the people engaged in your workplace. Is applicable to organizations of all sizes, whose aim is to manage the prevention of workplace injuries, ill-health, and deaths. In addition, ISO 45001 aims to establish a safe working environment and continual improvement of occupational health and safety performance
Specifies the requirements for organizations to develop, implement, and improve Energy Management Systems. This allows organizations to follow a specific framework that helps them achieve continual improvement in energy performance, efficiency, usage, and consumption. This framework specifies the measurements, documents, and reports, which enable organizations to monitor the progress of their processes and employees towards energy performance